Canon EOS 200D 24.2MP 18-55mm, Bluetooth, NFC Wi-Fi, DSLR Camera Black
  General Specifications​
Sensor SizeAPS-C
shutter speed will be 1/30 for NTSC, and 1/25 for PAL.
Display Resolution: 1040000 dots
Resolution; 18MP
Maya / Pre-sale Questions
Need Help? Contact Us via WhatsApp
Compare
Description
   Design that makes sense
The EOS 200D features a large 24.2 MP, APS-C-size CMOS sensor and the new DIGIC 7 image processor, enabling users to shoot in low-light conditions such as at night or indoors by setting their native ISO speed settings at up to 25600 (expandable to ISO 51200) to achieve images that retain all the details and colours with minimal noise. Combining Canon's proprietary technology – Dual Pixel CMOS AF and a Vari-angle touchscreen LCD panel, enable you to focus and capture your subject easily while in Live View mode.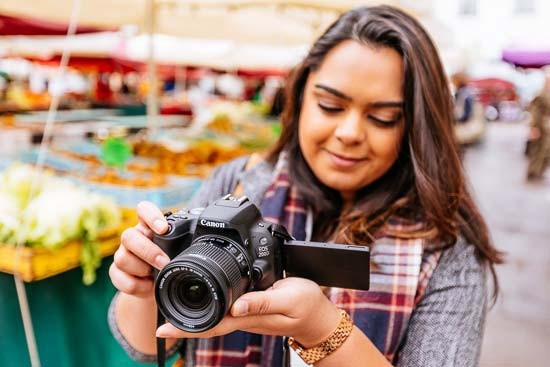 More portable
The EOS 200D is designed to be carried without weighing you down so you can enjoy DSLR photography in more places. Take it on holiday, to parties and celebrations, or just out for a walk when you're feeling creative.

Stunning Display
The LCD monitor size of 7.7cm accurately shows all the minute details and lets you instantly preview images and videos. The capacitive sensing technology allows you to adjust the brightness as well. The 24.2MP Canon camera helps you capture crystal clear images with its ISO ranging from 100 to 6400, which also contributes to its impressive performance irrespective of the lighting conditions. The CMOS sensor combines with advanced DIGIC 6 image-processing engine to maintain sharpness and clarity of pictures that you click. The camera has an inbuilt flash that helps capture good quality pictures in low light situations.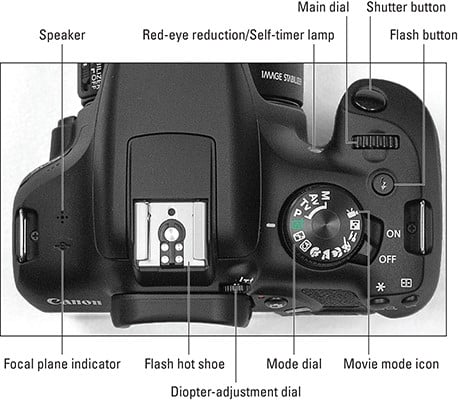 Advanced Image Processing
The Canon EOS 200D DSLR camera allows you to shoot high quality, full HD videos without any interruption. It is equipped with a Hybrid CMOS AF III that enables the camera to rapidly autofocus in LIVE view mode, during off-center shooting. Additionally, the 19 points, all cross-type AF is useful in tracking the subject. With many other useful features like exposure control, intelligent viewfinder, fast shutter speed, and advanced image processing options, you can make optimum use of this DSLR camera. You can also participate in LIVE view shooting or burst shooting while using the DSLR.
Reliable Battery 
The rechargeable Lithium-Ion LP E17 battery pack of the Canon 200D keeps it working for long stretches of hours without any interruption. In addition to supporting HDMI connectivity, the Canon EOS 200D supports remote-controlled operations. Supporting NFC and WiFi, you can easily share your favorite moments with the world.
General Specifications​
Sensor SizeAPS-C
shutter speed will be 1/30 for NTSC, and 1/25 for PAL.
Display Resolution: 1040000 dots
Resolution; 18MP