Canon EOS 5D Mark IV 24-105mm F/4L IS II USM Lens 30.4MP DSLR Camera Black
General Specifications
24-105mm F/4L IS II USM Lens
30.4MP DSLR Camera
Full-Frame CMOS Sensor
DIGIC 6 Image Processor
3.2 Inch 1.62m-Dot Touchscreen
Maya / Pre-sale Questions
Need Help? Contact Us via WhatsApp
Compare
Description
   Product Overview
With a 30.4MP full-frame CMOS sensor, this digital camera lets you capture high-resolution pictures in low light. In addition, it's coupling with a DIGIC 6 Plus image processor further enhances this camera's performance over a range of ISO 100 to 32000, which can be further expanded to ISO 50 to 102400. This delivers crisp images with reduced noise. Thanks to the 150,000 pixel RGB Plus IR metering sensor, you can now capture difficult scenes effortlessly. You can also shoot videos with this Canon camera that supports DCI 4K resolution recording. Bring out extra details while reducing the impact of ghosting using the various adjustment options such as focus fine-tuning and shift bokeh. This camera is fitted with a large 3.2" 1.62m dot, clear view II LCD that features an anti-reflective design for sharp image playback. While an outer body of magnesium alloy lets you click snappy pictures in any weather. With an SD card slot, you can save your pics and share them via built-in Bluetooth.
   See Legendary
The EOS 5D Mark IV camera builds on the powerful legacy of the 5D series, offering amazing refinements in image quality, performance and versatility. Canon's commitment to imaging excellence is the soul of the EOS 5D Mark IV. Wedding and portrait photographers, nature and landscape shooters, as well as creative videographers will appreciate the brilliance and power that the EOS 5D Mark IV delivers. Superb image quality is achieved with Canon's all-new 30.4 Megapixel full-frame sensor, and a highly-detailed 4K video is captured with ease. Focus accuracy has been improved with a refined 61-point AF system and Canon's revolutionary Dual Pixel CMOS AF for quick, smooth AF for both video and Live View shooting. Fast operation is enhanced with Canon's DIGIC 6 Image Processor, which provides continuous shooting at up to 7.0 fps. Built-in Wi-Fi®, GPS and an easy-to-navigate touch-panel LCD allow the camera to become an extension of you. When quality matters, the EOS 5D Mark IV helps deliver results to inspire even the most discerning imagemaker.
    150,000-pixel RBG IR metering sensor
To determine and maintain proper exposure, especially in varying light sources with moving subjects, the EOS 5D Mark IVcamera's iSA (Intelligent Scene Analysis) system has a dedicated RGB IR light sensor with approximately 150,000-pixel resolution. It provides the camera with quick and comprehensive image analysis. The EOS 5D Mark IV also incorporates Canon's Intelligent Tracking and Recognition system (iTR AF) that detects and tracks subjects, automatically switching the AF point to maintain subject tracking.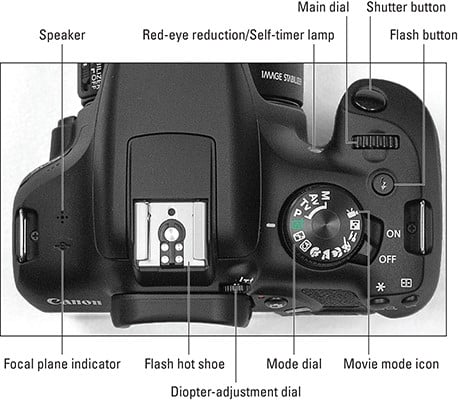 Built to Last
Featuring a durable magnesium alloy body with a shutter tested to 200,000 cycles, along with enhanced mirror and shutter drive mechanisms, this rugged camera is also sealed to resist dust and moisture for use in inclement conditions. On the rear of the camera is a bright, large 3.0″ 1.04m-dot LCD screen that can be used for live view monitoring, image review, and menu navigation. It features a smudge-resistant and anti-reflective Clear View II coating to better enable viewing in bright lighting conditions. Alternatively, for eye-level finding, an optical Intelligent Viewfinder II is incorporated into the design and provides 100% frame coverage, for greater composition accuracy, and an overlay display to highlight pertinent shooting settings, such as a digital level, exposure information, and other camera functions.
   Dual Pixel AF with Touch Panel Operation
Featuring Dual Pixel CMOS AF and Touch AF, the EOS 5D Mark IV camera delivers quick, smooth AF throughout 80% of the picture area for excellent subject tracking while shooting video. Used in conjunction with the camera's touch screen, it's easy to select the location and size of the AF frame, which can be especially useful when the subject is off center or for dramatic focus shifts. Up to 7.0 fps Continuous Shooting; the EOS 5D Mark IV camera is designed to capture the action. Its remarkable shutter, advanced AF, exposure and image processing systems help ensure virtually instantaneous response and performance at up to 7.0 fps, even at full resolution.
   Advanced Image Processing
The EOS 5D Mark IV camera has a full-frame, high-speed CMOS sensor that delivers beautiful images of weddings, wildlife, sports and more. Measuring approximately 36.0mm x 24.0mm, the same size and ratio as a 35mm film frame, it records approximately 30.1 Megapixels at normal ISOs of up to 32000. It also captures tremendous still and 4K video clips suitable for significant post-processing, retouching and cropping. This brilliant sensor adds Dual Pixel CMOS AF capabilities as well, enabling the EOS 5D Mark IV to focus quickly and accurately during live-view shooting, capturing the action as it unfolds. At light levels as low as EV -4, Dual Pixel CMOS AF enables continuous automatic AF and AF tracking at the pixel level in more places and more lighting situations, enhancing overall camera operation for sharp still images and smooth, precise focus transitions in videos.
   Built-in Wi-Fi® Technology
Thanks to its built-in Wi-Fi® connectivity, the EOS 5D Mark IV can be easily set up to operate remotely, with control of select camera settings from compatible mobile devices. Image review and transfer are fast and convenient, without even having to take the camera out of its bag. Built-in NFC (Near Field Communication) technology helps provide the EOS 5D Mark IV camera with a virtually seamless connection to compatible iOS and Android™ devices. Simply tap to connect and transfer images and videos. It's also compatible with the Canon Connect Station CS100 device, which makes it simple for photographers and moviemakers to view and organize all their photos and videos from one connected device.
  Reliable Battery 
The 1 x LP-E6N Rechargeable Lithium-Ion Battery Pack, 7.2 VDC, 1865 mAh of the Canon 7D Mark II keeps it working for long stretches of hours without any interruption. In addition to supporting HDMI connectivity, the Canon EOS 7D supports remote-controlled operations. Supporting NFC and WiFi, you can easily share your favorite moments with the world.