Sony DAV-DZ350 1000W 5.1ch DVD Home Theatre System
Key Features
5.1-channel system
Stylish Quartz design
Bluetooth  connectivity
Karaoke feature
S-Master Digital Amplifier
BRAVIA Sync
Maya / Pre-sale Questions
Need Help? Contact Us via WhatsApp
Compare
Description
Product overview
Convert your home into a movie theatre with Sony DAV-DZ350 DVD Home Theatre which has 5.1 channel And 1000W RMS. The HDMI power enhances your DVD content to 1080p high resolution for sharp clarity. The monolithic Design you can enjoy bright And vivid movie experience. It's Bluetooth Connectivity easily connects with your mobile devices to provide big screen view And superior music quality. The 24 bit S-Master digital amplifier helps create a realistic sound experience. It uses three front speakers – left, center, And right And two surround speakers placed on the sides of the room. The subwoofer supplies low-frequency effects And low bass to enable you to enjoy cinematic sound effects comfortably within your home. You can record And play music using the USB port. The USB movie playback offers Xvid Home And MPEG-4 Simple Profile. Additionally, Sony DAV-DZ350 DVD Home Theatre includes India Sound Setting, sense of quartz Design, USB music record And play function, S-Master, Movie/Music mode, Dolby Digital, dimmer, audio line in/out, microphone input jack, Dolby Pro Logic, FM tuner, 20 preset stations, CD-R/CD-RW playback, JPEG playback, MP3 playback, Multi Disc Resume, Tray Lock, 2 way front speaker system And subwoofer. Choose this home theatre system And keep yourself entertained the smart way. The system supports FAT12, FAT16, And FAT32 in USB device It can recognize the following files or folders in DATA DVD, DATA CD And USB device: up to 300 folders And up to 648 files.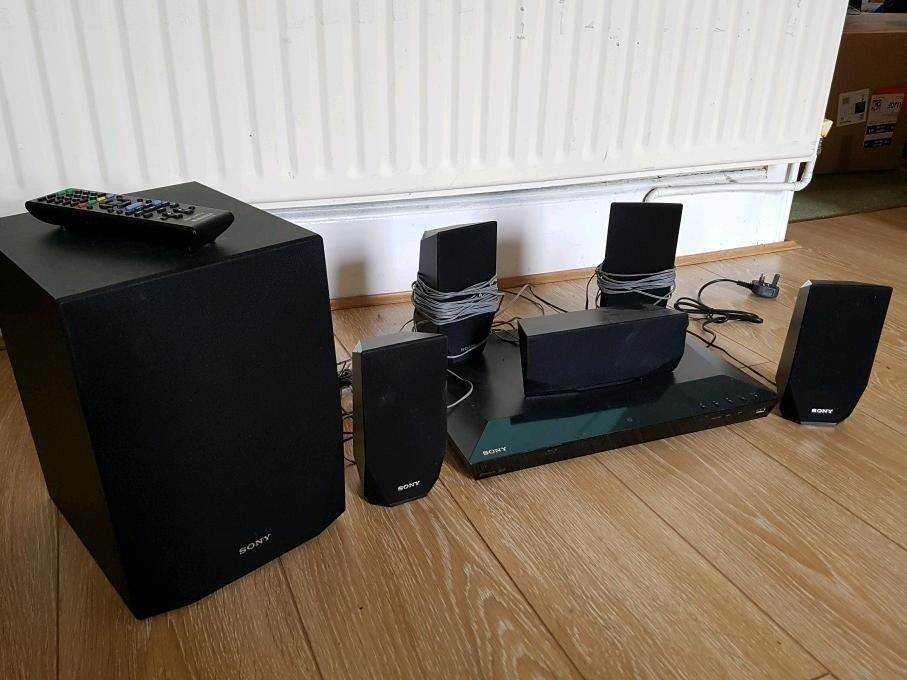 Audio Quality
The 1000W RMS power And 5.1 channel Sony DAV-DZ350 provides for a perfect sound solution for your TV. All the speakers have smartly balanced sound output to give you an enriched sound experience. Infused with Dolby Digital technology, it provides the best surround sound quality. The S-Master amplifier maintains the purity of the digital audio signal right upto the final speaker And reproduces a realistic sound experience. You can enjoy audio And video directly using the USB. A single button commAnd for instant playback is enabled using Bravia Sync feature.
Connectivity
Sony DAV-DZ350 DVD Home Theatre system has Bluetooth Connectivity which allows you to connect to all your mobile devices on your Home theatre system And enjoy all your favorite video clips And music on the big screen in Dolby digital surround sound. You can also plug in your USB Memory And enjoy all content from it, the audio line allows you to connect your ipod, iphone, ipad, MP3, And laptop to your home theatre And enjoy your favorite videos And music in a magnified way. The USB decodes the picture format into JPEG format for playback. The Xvid Home/MPEG4 Simple Profile converts the USB video for playback on your screen. USB music is decoded in MP3/WMA9/AAC format. The HDMI line out to enhance your picture quality to provide you theatre-like movie experience, while you are at home.
Dimensions And Weight
The sense of quartz Design inspired by Gems And cool monolithic Design of Sony DAV-DZ350 DVD Home Theatre provides sleek And elegant look which can easily assimilate into your living room interiors. The main unit measures upto (W X H X D) (MM) = (430 X 54 X 306). The Weight of the main unit approximately is 2.7 (Kg). The size of the Front Speaker measures upto (W X H X D) = (92 X 272 X 97). The weight of the Front Speaker approximately is 0.65 (Kg). The size of the Center Speaker measures upto (W X H X D) = (241 X 92 X 85). The weight of the Center Speaker approximately is 0.6 (Kg). The size of the Surround Speaker measures upto (W X H X D) = (91 X 203 X 92). The weight of the Surround Speaker approximately is 0.55 (Kg). The size of the Subwoofer measures upto (W X H X D) = (230 X 365 X 360). The weight of the Subwoofer approximately is 6.3 (Kg).
Special FeaturesWith Sony DAV-DZ350 DVD Home Theatre you can listen to music from your Bluetooth mobile phone or Bluetooth device over a wireless connection. The Karaoke function will make you sing along to your favorite tunes. The Dolby Digital gives your system a big boost And takes your surround sound experience to the next level. And with USB recordings, you can even listen back to your singing session And decide who truly has the recording voice. The HDMI ARC (Audio Return Channel) allows you to easily connect your compatible devices to process the TV's audio signal without an optical cable.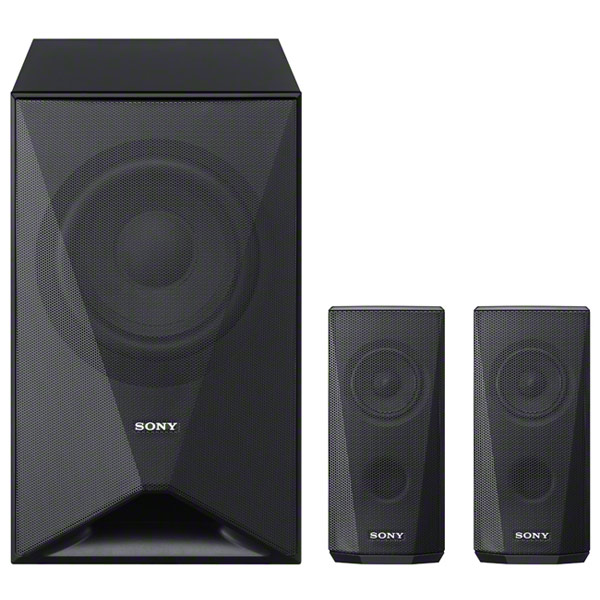 Key Features
Monolithic-Design 5.1-ch System with DVD Player
USB Movie Playback (Xvid Home and MPEG-4 Simple Profile)
Bluetooth connectivity
HDMI Output (Upscale 1080p for DVD)
Stylish Quartz design
BRAVIA Sync
Channel
1000 W Total Power Output
HDMI, USB
Dolby Digital, BRAVIA Sync, USB Music Record and Play Function
Wireless speakers
Detailed specifications
Audio Line IN (Analogue):      1
USB:                                       Yes
Dolby Digital Output:              Yes
BRAVIA Sync:                        Yes
Control for HDMI:                   Yes
Dolby Pro Logic:                     Yes
Video Signal OUT (HDMI):      1
Karaoke
Mic IN/VOLUME/ECH:            Yes
Karaoke-PON (Only DVD Function): Yes
General
Brand:                                                              Sony
Model No:                                                         DAV-DZ350
Power Output – Front (Watts):                          167
Power Output – Centre (Watts):                        167
Power Output – Surround (Watts):                    167
Power Output – Subwoofer (Watts):                  165
Power Consumption (in Operation) (Watts):     70
Power Consumption (in Standby) (Watts):       0.3
No Of Speakers:                                               5
Power Output – Total (Watts):                           1000
USB Memory
Decoding Format For Sound(playback):          MP3 / WMA9 / AAC
Decoding Format For Picture(playback):         JPEG
Decoding Format For Video(playback):           Xvid Home / MPEG4 Simple Profile
Playmode(normal):                                          Yes
Playmode(shuffle):                                           Yes
Playmode(repeat):                                            Yes
Playmode(resume):                                          Yes
Tuner
External FM/AM Antenna:                                FM (2P CN)
Station Preset:                                                 20
DVD/SACD/VCD/Cd Player
Front Speaker Type (Grill):                               Micro Satellite (Fixed / Punched Metal)
Surround Speaker Type (Grill):                         Micro Satellite (Fixed / Punched Metal)
Subwoofer – Active/Passive:                             Passive
Dimensions and Weight
Main Unit (W x H x D) (mm):                           430 x 54 x 306
Main Unit Weight (kg):                                     2.7
Front Speaker (W x H x D) (mm):                    92 x 272 x 97
Front Speaker Weight (Kg):                             0.65
Center Speaker Size (W x H x D) (mm):          241 x 92 x 85
Centre Speaker Weight (Kg):                           0.6
Surround Speaker (W x H x D) (mm):              91 x 203 x 92
Surround Speaker Weight (Kg):                       0.55
Subwoofer (W x H x D) (mm):                         230 x 365 x 360
Subwoofer Weight (Kg):                                  6.3