Apple iMac 27″ Retina 5K Display Intel Core i9 8GB RAM 1000GB HDD( 3.6GHz 8-core 9th-Gen)
Key Features
3.6 GHz Intel Core i9 Eight-Core
8GB of DDR4 RAM
 1TB HDD
27″ 5120 x 2880 IPS Retina 5K Display
AMD Radeon Pro Vega 48 GPU (8GB)
Maya / Pre-sale Questions
Need Help? Contact Us via WhatsApp
Compare
Description
  Product Overview
The vision behind iMac has never wavered: Transform the desktop experience by fitting powerful, easy-to-use technology into an elegant, all-in-one design. The new iMac takes that idea to the next level — giving you even more amazing tools to do just about anything. iMac is packed with the latest processors, faster memory, and phenomenal graphics. All coming to life on the brightest, most vibrant Retina display ever on a Mac. It's the total package — powered up. all this power delivered on a 27 Inch 5K Display.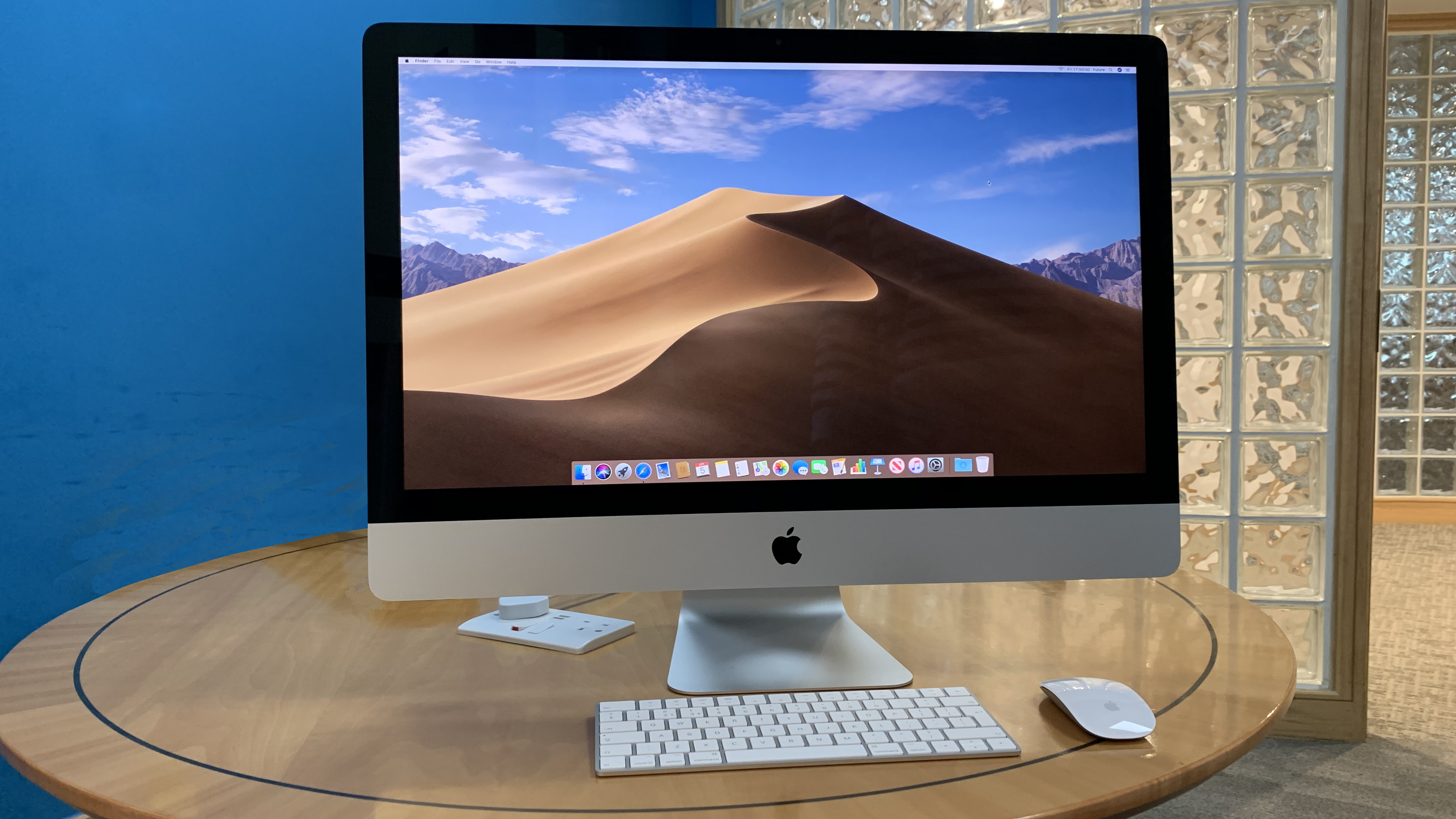 Technical Features
Faster than ever, iMac is now equipped with the ninth-generation Intel Core processor and the latest in high-performance graphics options. Storage zips along too, with the snappy and spacious 1TB (1000GB) Fusion Drive available. Or you can configure iMac with up to a 2TB SSD. So no matter what you're into, you can do anything you love on iMac. All at maximum velocity. Up to a whopping 8 cores. Process that. With ultrapowerful quad-core and all-new 6- and 8-core processors, iMac is a total tour de force. The 27-inch model now clocks Turbo Boost speeds up to 5.0GHz. This means you get more muscle when you're using processor-intensive applications like Logic Pro X or Adobe Photoshop. Everything feels flat-out fast.
    27″ Retina 5K IPS Display
So bright and colorful, you can't look away. Available in stunning 5K, the Retina display shines beautifully on iMac. With one billion colors and 500 nits of brightness, graphics leap off the screen. Text is razor-sharp. Binge-worthy shows and blockbuster movies have never looked more amazing. Graphics and games dazzle in exquisite detail. It's simply the best Mac Retina display yet. Amazingly true-to-life color. The world is full of spectacular colors, and iMac brings more of them to your screen. The Retina display uses a P3 color that shifts away from standard white LEDs to advanced red-green phosphor LEDs. That means all three colors — red, green, and blue — are more equally represented and show off real-world color with more balance and precision, bringing all your photos and content to life more vividly.
    Latest 802.11ac Wi-Fi & Bluetooth 4.2
With three-stream 802.11ac technology, the iMac takes desktop Wi-Fi speeds over the top. When it's connected to an 802.11ac base station – including AirPort Extreme and AirPort Time Capsule (both sold separately) – you can reach data rates of up to 1.3 Gbps. That's triple the previous 802.11n standard, which means you'll get up to three times faster Wi‑Fi. You also get double the channel bandwidth, with 80MHz-wide channels providing more room for more data to flow faster than ever. Bluetooth 4.2 wireless technology is also built-in, so you can connect accessories such as a wireless keyboard and mouse.
    Transfer Large Files Fast
Storage that's lightning fast. Storage is about space. But it's also about speed. A Fusion Drive gives you the best of both worlds. The apps and files you use the most are automatically stored on fast flash storage, while everything else moves to a high-capacity hard drive. From booting up to launching apps to importing photos, it's faster and more efficient to do it all with Fusion Drive. It comes standard on all 27-inch models, and as an option on the 21.5-inch model.
   Apple Magic Keyboard
The redesigned Apple Magic Keyboard comes standard with your iMac. It's wireless and rechargeable (so you won't be replacing batteries), with an ultracompact, edge-to-edge design that wastes no surface space. It has full-size function keys and a lower profile that increases control and comfort. And it pairs immediately with your iMac right out of the box.