Epson EB-S41 Versatile Projector – White
     Key Features
High-quality, bright images
Contrast ratio of 15,000:1
Enjoy the big screen experience
Lamp and filter life of 10,000 hours
Versatile and flexible control
Maya / Pre-sale Questions
Need Help? Contact Us via WhatsApp
Compare
Description
Just Projectors review on the Epson EB-S41
This projector has a high brightness of 3300 lumens so you can project with light coming through the windows, no need to close the blinds! The high contrast ratio contributes to the image quality, making the blacks stand out from the whites. This LCD projector effortlessly displays bright images with vivid colours for a crisp, clear picture. The LCD technology used in the EB-S41 gives you clear and realistic colours. The Epson EB-S41 has a standard zoom throw ratio so you can adjust the image size without having the need to move the projector around. If you are 1m away from the screen, you can expect a 69cm wide image. With an HDMI input, high definition video and audio content are easily played with the same high quality you would expect from Epson. This allows you to connect to most devices without having to buy adaptors. There is also the 2 in 1 USB port allowing you to show image and mouse control from a single USB cable. You can even present PC free with a USB cable. The EB-S41 has a great lamp life of 10,000 lamp hours. This projector is quick and simple to set up. No matter the angle of the projector, you can easily align the projection to ensure a straight and correct image thanks to its keystone correction. This is a great projector for presentations and comes with a carry case so it is a great mobile option.
    Product Overview
Don't let your need for a business projector hold you back from enjoying blockbusters on the big screen at home. This versatile SVGA projector can do both. Even when there's ambient light, its 3,300 lumens and 3LCD technology are capable of delivering a bright and clear picture. And its incredibly long lamp life means it's great value for money.

    iProjection Service
From a built in speaker to horizontal and vertical keystone correction, and a split screen function, this 3 LCD projector offers you plenty of options for presentations. The innovative Epson iProjection service allows you to project content and presentations from your smart devices by reading the QR code projected on the display. The long lamp life handles of 10,000 hours when in Eco mode, saving you time and money.
    3LCD Technology
According to the Epson projector reviews, this machine is not only stylish, but also delivers an enhanced projection of content in detailed clarity. Offering better color and brightness, it equips 3 chip LCD technology. This engine dedicates an entire chip to process each primary color, which results in vibrant, realistic images and video clips.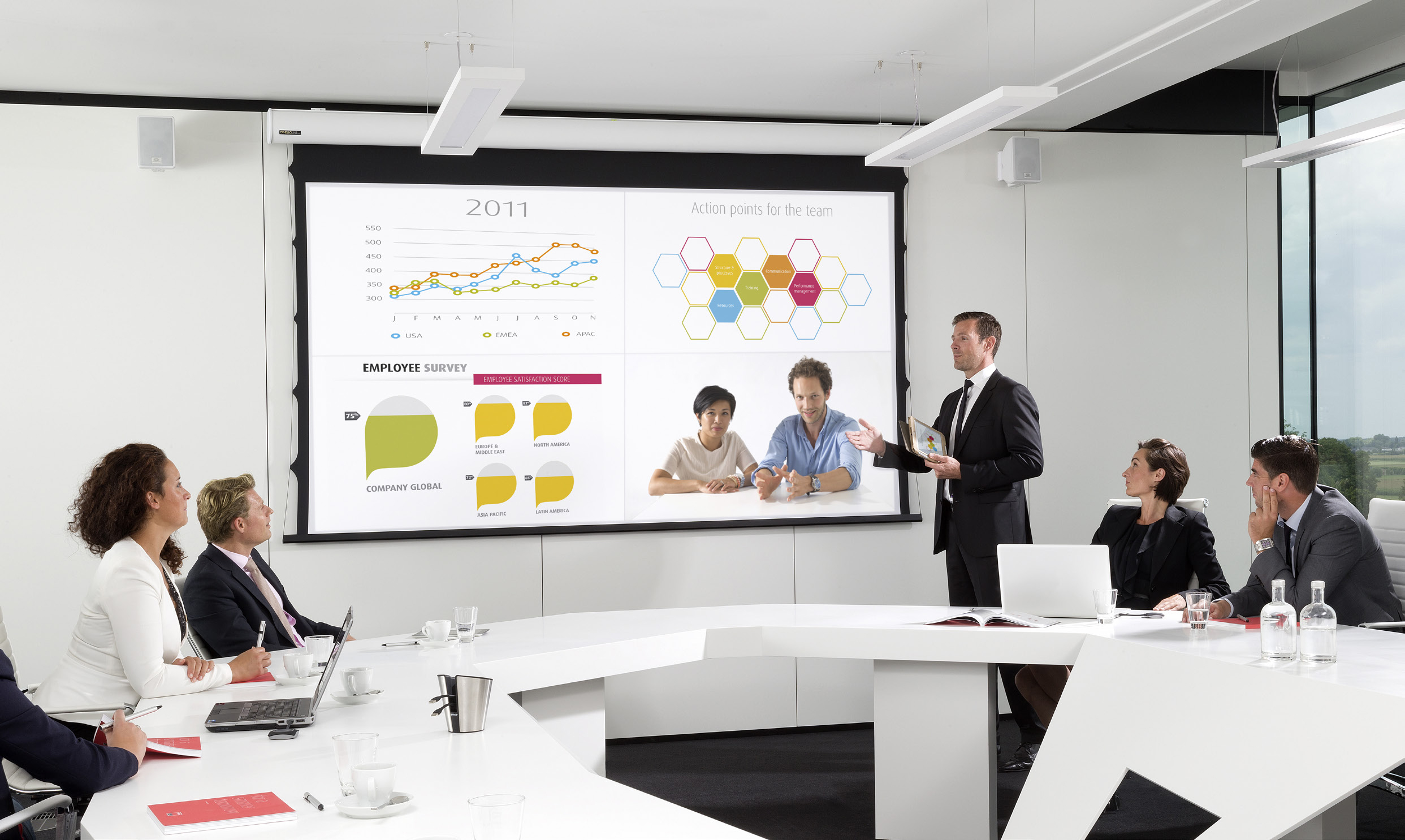 General Features
3,300 Lumen
3LCD Technology
Light source; Lamp
USB : 2, HDMI : 1