Lenovo Ideapad 130- Intel Celeron 4GB RAM 1TB(1000GB) HDD 15.6″ Free DOS
   Key Features
Display: 15.6″ HD (1366×768) Anti-glare
CPU: Intel Celeron N4100
Memory: 4GB RAM +1000GB HDD
OS: Free DOS
Keyboard: English
Maya / Pre-sale Questions
Need Help? Contact Us via WhatsApp
Compare
Description
  Product Overview
Sometimes it's best to keep things simple. The newly redesigned IdeaPad 130 is as powerful as it is easy to use. Featuring premium processing and ample storage, this laptop packs than enough for all the things you want to do, right at your fingertips. With up to a 15" Full HD (FHD) display, optional touchscreen, advanced Intel HD graphics, and sleek design, the IdeaPad 330 is safe, durable, and ready to tackle today's tasks and tomorrow's.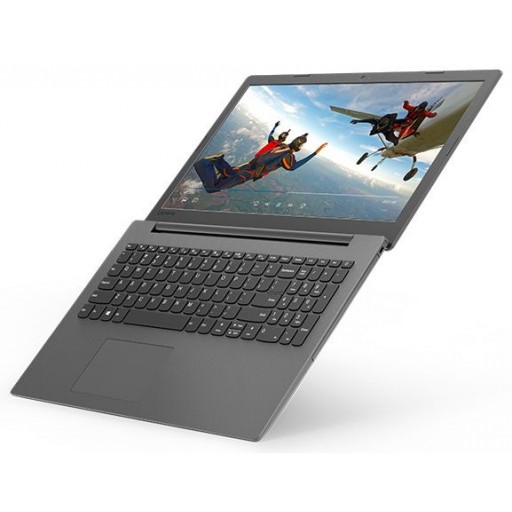 Physical Features
A horizontal speaker grille sits above the keyboard, whereas the trackpad (along with left and right-click buttons) is below it. Coming to the sides of the Ideapad 110, the left has the power jack, Ethernet port, USB 2.0 (1), USB 3.0 (1) and 3.5mm audio jack (1). On the right, there's nothing other than a tray-loading optical disc drive and a Kensington lock. There's also a card reader slot placed at the front edge of the bottom port. Overall, the design and build quality of the Lenovo Ideapad 110 to be appreciably good.
    Affordable Design
The days when laptop computers used to be super expensive are long gone. Thanks to the advances in technology and dropping manufacturing costs, there are numerous laptops (from manufacturers both big and small) available across all price segments today. So even for those who just want a notebook PC that handles the basics right, there's no dearth of choice in the market. And that's precisely the audience Lenovo is targeting with its Ideapad series. Glancing at the raw specifications, the Lenovo Ideapad 130 appears to be a fairly decent option for those who are in the market to get their first notebook PC.
    Intel Celeron Inside
The name Celeron is used by Intel to denominate its low-cost line of processors. In fact, Celeron is an economic version of Intel top processors. In other words, Celeron is a simplified version of Pentium II, Pentium III, Pentium 4 or Core 2 Duo, with some of its features being reduced or removed. The performance of the entry-level dual-core CPU should be sufficient for office, Internet normal image processing. Demanding tasks like intensive 3D gaming, HD video cutting, or rendering will be limited by the performance of the Celeron.
      General Specifications
 Intel Celeron 1.60GHz
4GB DDR4, 1000GB 5400rpm
Intel HD Graphics
15 Inch HD (5.2mm), HD 1366×768
Built-in Optical Disc Drive