Sony Bravia 48W650D Full HD Smart TV 48-Inch
    Key Features
Display:48″
X-Reality PRO for a more refined picture
Enjoy Full HD 1080p
Enjoy entertainment and apps wirelessly with built-in wifi
Enjoy digital content via USB
Motionflow helps keep the action smooth
Maya / Pre-sale Questions
Need Help? Contact Us via WhatsApp
Compare
Description
    Product Overview
Change the way you use a TV with the Sony 48W650D 48inch Full HD Smart TV that provides a superb viewing experience along with various other perks. The huge, 48inch screen renders images at 1920 x 1080 pixels resolutions for a crisp and bright display. This is further enhanced by the unique X Reality PRO processing engine. It refines every image to give you more accurate and detailed picture quality.
    The X Reality PRO Processing Engine
This technology will turn any low-resolution content into stunningly vibrant and crystal clear visuals. The Sony 48 smart TV is so slim that it will seamlessly blend with any home space. It has a narrow and discreet bezel and slim dimensions of 109.2 x 64.3 x 6.6cm. The Sony Smart TV also features a unique stand that effectively hides all the cables to maintain a slim, uncluttered environment. This Sony television has built-in WiFi that lets you use the Internet just like you do on a PC.
This massive 48inch Full HD screen renders a spectacular maximum resolution of 1920 x 1080 pixels. The X Reality PRO processing engine for increased picture clarity. With X-Reality PRO, patterns in images are compared with patterns stored in a unique database to sharpen each pixel. We use the knowledge gained from developing and filing blockbuster movies and TV shows to deliver supremely lifelike detail in everything you watch.
   Slim yet Robust
At just 8.9mm at the thinnest point, this TV comes with lightning protection that guards against lightning strikes of up to 9000V. Humidity protection with anti-humidity coating for inner wiring, rendering the TV safe for use in humid and moist conditions and dust protection that keeps dust and water out. It also has Surge protection that can handle up to 2000V.
   Motionflow XR keeps the action smooth
Enjoy smooth and sharp details even in fast-moving sequences with Motionflow XR. This innovative technology creates and inserts extra frames between the original ones. It compares key visual factors on successive frames, then calculates the split second of missing action in the sequences. Some models also include black-frame insertion for a blur-free and truly cinematic look.
This Bravia comes with a built-in WiFi for accessing your favorite content online. Photo Sharing Plus for sharing videos and pics on the screen, using up to ten devices. Screen Mirroring capabilities for viewing content from smartphones directly on the screen. The USB port to play music, videos, and more from connected devices that are compatible with the interface.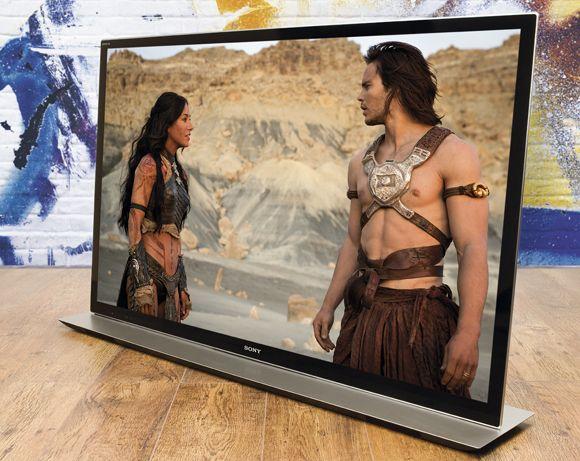 General Specifications
1920 x 1080 pixels resolution
Motionflow™ XR 240 (native 60 Hz
109.2 x 68.3 x 23.4 cm
WiFi, Aspect Ratio: 16:9