32LJ570U Full HD 32 inch Smart LG TV
Key Features
Screen Size: 32 inch
Screen Type: LED TV
Screen Resolution: 1366 x 768
Connectivity: 2 HDMI, 1 USB Ports
Extra Feature: Watch movies from your USB
Maya / Pre-sale Questions
Need Help? Contact Us via WhatsApp
Compare
Description
The LG 32LJ570U Full HD 32 inch Smart TV​ renders images at a resolution of up to 1366 x 768 pixels. This LED TV is designed to give you a superior, prime time viewing experience while keeping the energy consumption to a minimum. This 32inch energy efficient TV uses LED backlighting to give you a brighter and more vivid picture. The Picture Wizard III feature of this LG LED Full HD TV allows you to adjust black level, color, tint, sharpness and backlight levels so that you can enjoy watching your favorite media the way you want.
   Premium Visual Quality
The Triple XD Engine technology, apart from providing standard features such as Deinterlacing and upscaling, also provides three enhancement options that help improve the quality of the picture. With so many features packed together under one roof, no wonder the LG 32LJ570U Full HD 32 inch Smart TV reviews define this television as being praiseworthy.
The Picture Wizard III is for adjusting black level, color, tint, sharpness and, and backlight levels. The Triple XD Engine that enhances the contrast between black and white. Dynamic Color is for a realistic viewing experience.  The LG LED Full TV reviews speak highly of the audio output it delivers as it features Virtual Surround and Clear Voice technologies. This TV comes preinstalled with games so that your kids and you can enjoy playing them when boredom strikes.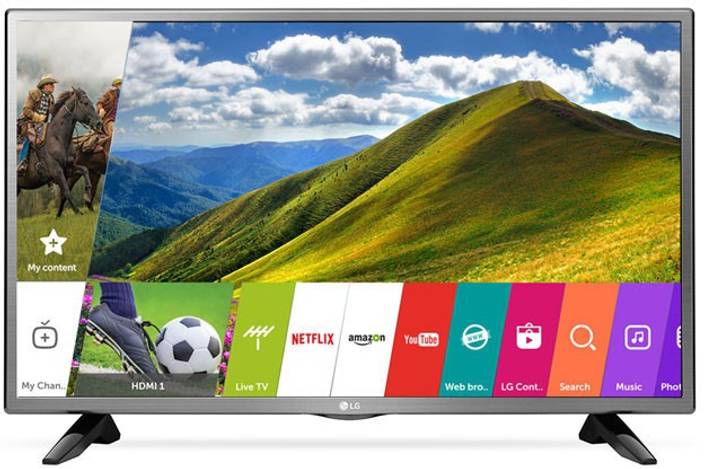 Distinctive Features
The LG 32 inch Full DH TV comes with One USB v2.0 port that offers direct access to the content on USB flash drives or HDDs. It has two HDMI ports that ensure faster data transfer speed of HD content for a true HD experience. This LG HD LED TV has two HDMI ports and a USB port to offer splendid connectivity. This black colored, 32 inch HD TV comes with a built-in HD receiver.
This LG TV has 2Ch 10W speakers that offer vibrant audio. The Virtual surround delivers sounds for a home theatre-like experience. Clear Voice isolates the audio from background noise for the unbelievably clear listening experience. HDMI (high-definition multimedia interface) is a modern interface standard that allows a variety of audio and video signals to be transmitted over a single cable connecting your LG HD TV to other devices.